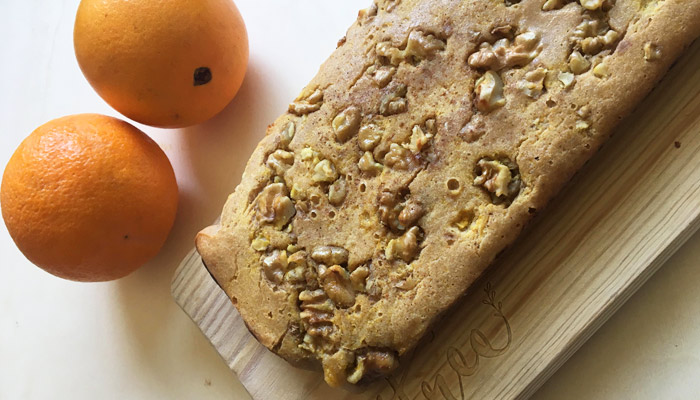 Who does not like candy every once in a while? All of us! But to eat a sweet we do not have to choose unhealthy and laden options of refined sugar. It is perfectly possible to make a healthy , sugar-free and equally tasty orange cake .
But if you do not miss something sweet, you can try a healthy alternative to sugar, such as stevia : a natural sweetener that can be used in recipes or food.
Then I share with you my recipe for orange cake and cashew, sweet and no sugars . It is very easy to do, similar to the traditional orange cake, but with much less calories!
Look!
Orange and Cashew Cake
Ingredients (for about 12 slices)
250 g 

of rice flour

4 whole bio eggs

15 ground 

nuts

1 tablespoon well filled with 

Prozis cashew butter

2 tablespoons syrup of dates

Juice of two oranges (separate juice from each orange)

2 teaspoons baking powder (optional)

Coconut oil

 for greasing
How to prepare the orange cake
Start by hitting the eggs;

Add the dates syrup, the cashew butter, the rice flour and the yeast;

Wrap everything with the help of a fork and then add the juice of an orange to the mixture;

Grease a shape with parchment paper and coconut oil and place the mixture;

Arrange the nuts over the mixture and cover with the juice of the second orange;

Bake, preheated to 180 ° C, for about 40 minutes.